Happy New Year!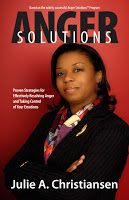 I am very excited to announce that my most popular book, Anger Solutions: Proven Strategies for Effectively Resolving Anger and Taking Control of Your Emotions, is now available in EBook format. Thanks to the amazing folks at Smashwords Publishing (www.smashwords.com), you can now purchase and download the e-version of this book for your Kindle, Kobo, PDF reader, or other e-book reader format that you desire.
The E-version of the book is much more affordable than the print version for a couple of reasons (only $5.99 USD)- first, it is an e-version and much less costly to produce – no printing, shipping, or packaging costs are required on my end, and I can pass that savings on to you! Second, some of the content that was contained in the appendix of the print version is now out of date, or no longer needed in a digital version. Contact information for crisis lines across Canada, along with information about eating disorder clinics, grief counseling, partner assault response programs, etc., are readily available via the Internet. Readers are still encouraged to avail themselves of these resources; however, the listings from the print version were deleted for the e-version. Lastly, we have updated the bibliography and included complete references for the sources that informed the book. In all, the page count has been reduced to about 90 pages; however, the full content from all the chapters is there for your reading enjoyment.
Please tell your friends, and visit www.smashwords.com today to get your copy of Anger Solutions for your favourite e-reader.
If you still prefer PRINT, have no fear! You can still order a print version of Anger Solutions from our online store: http://store.angersolution.com.
Julie Christiansen
---